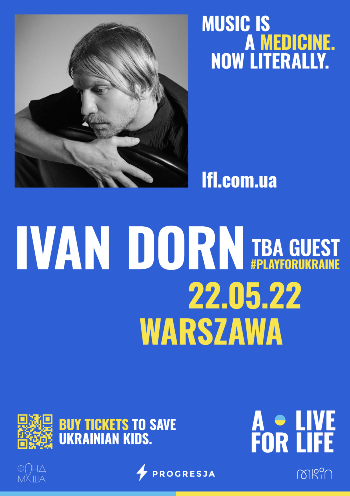 A LIVE FOR LIFE: IVAN DORN
A series of charity concerts in support of refugee children from Ukraine.
The H2D concert agency In collaboration with the Ministry of Culture of Ukraine and local and western partners, launched a charity concert marathon, A Live for Life. The main purpose of the concerts is to raise funds to support children relocatee.
According to UNICEF, Russia's attack on Ukraine has forced more than half of the country's children to leave their homes. This was one of the largest displacements of children since World War II.
Thousands of people from all over the world cope together to help Ukrainian children. One of the most active volunteers is Ukrainian musicians, whose voices of support are currently being heard around the world. One of the most popular Ukrainian artist Ivan Dorn, will give a charity concert in Warsaw on May 22. The musician will be accompanied by special guests.
Ivan Dorn is Ukrainian singer, who debuted his solo career in 2011. Ivan became a one-night sensation after releasing "Stytsaman", which was an absolute hit and reached millions of views on YouTube.
In 2019, Ivan created the Masterskaya. A creative space in the center of Kyiv, created for the development of young and original musicians. Now it has been reformatted into a volunteer headquarters.
Today, Ivan is presenting series of his charity concerts #playforUkraine to support Ukrainians and collect funds for cultural, medical and humanitarian needs. Now he kindly agreed to join our initiative A live for life.
Proceeds from the concert will go to the Masterskaya and Masha Foundation, an ideological inspirer of which is Masha Efrosinina, Honorary Ambassador of the United Nations Population Fund.